Royal mail have announced they are striking on the following dates affecting deliveries up till Christmas: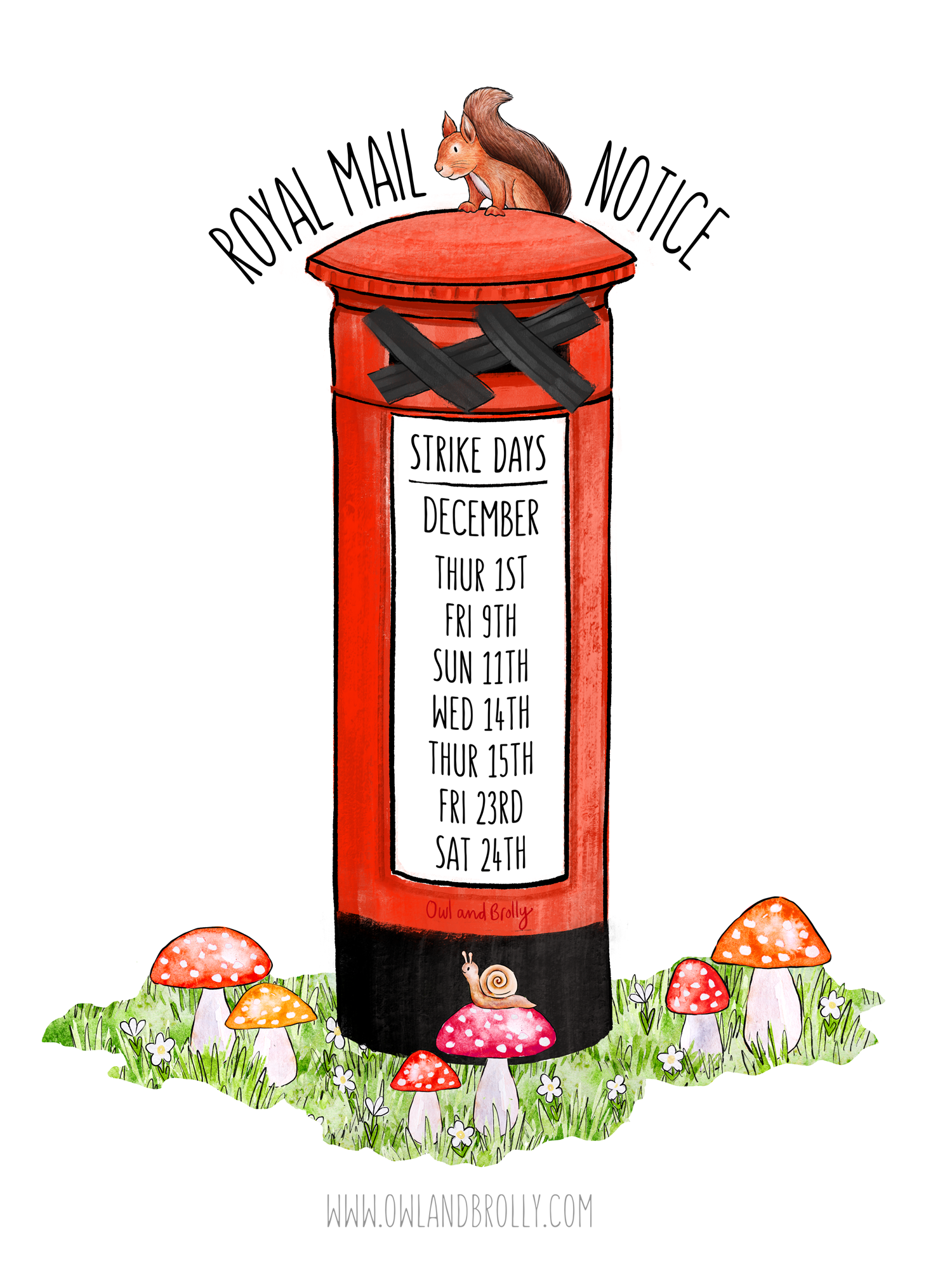 Black Friday week and into December:
Thursday 1st December
Friday 2nd December
Sunday 11th December
Wednesday 14th December
Thursday 15th December
Friday 23rd December
Saturday 24th December

I can no longer get items to you by the first of December, and I cannot guarantee anything will arrive in time for Christmas, due to the strikes.
Should you still wish to buy any stickers as Christmas gifts it is suggested you get your order in as soon as possible knowing the delays in the Christmas post. If you wish to upgrade any order to a special delivery (always included on items over £100) then please drop me a message to I can do this for you

I will do all I can to get items delivered promptly, but should the delivery time be extended because of closed post offices, I am ever so sorry for any inconvenience this causes x

* * * * * * * * * * *

CHRISTMAS OPENING TIMES

My last print run will be on the 16th December, and my final post drip the 17th December. This is for regular stickers being ordered with no specific deadline of arrival. These won't arrive in time for Christmas

I will be available on email but I will not resume printing again till the 4th January.

I want to wish all my customers a very Happy Christmas and thank you for supporting me this year!

* * * * * * * * * * *
GENERAL WALL STICKER PROCESSING TIMES

Please allow 7-10 working days for your stickers to be printed, cured, prepared and packed. They will then be posted once or twice a week.
Small post boxed sized orders will normally be posted more frequently unless they need a proof of postage.
All large items are being upgraded to first class signed for at this time to help the items get to you as quickly as possible once they are in the postal system. This excludes smaller cost wall sticker kits or large Special Delivery orders.

The postal staff at Royal Mail are working with reduced staff in their processing centres and so are prioritising mail. This is completely out of my hands and delays will be inevitable at this time while Covid is still with us.
I may need to email or text you regarding your order so please do check your spam filter from time to time.
Please feel free to get in touch either via email or on FB messenger at the Owl and Brolly page https://www.facebook.com/OwlandBrolly/
I shall update this information as soon as any more details occur. This can change daily re postoffice, couriers, or any other factor than can cause delays.


Sue x